If you've had your finger on the pulse of all things rejuvenation, then you've gotten wind of ThermiVa by now.
ThermiVa is a new non-surgical feminine rejuvenation treatment for women who want to reverse the effects of childbirth and aging. It is the perfect no downtime, no pain, in office, super quick procedure for women who are suffering from vaginal looseness, vaginal dryness, lack of friction or sensation during intercourse, vaginal flatulence, sagging of the labia, excessive vaginal sweating, painful intercourse. It can also help women reduce leaky bladder symptoms, and even aid in orgasmic dysfunction.
If you've carried children, c-section or not ( I had two of each) then you are well versed in the havoc childbearing hath wrecked upon on our bodies. Sure, post-baby, our bodies miraculously bounce back, (not without lots of Soul Cycle classes and weekly trips to Dr. Hughes ) yet pesky stretch marks, deflated boobs, hemorrhoids, spider veins, melasma and afflictions of the sort, still linger, like garlic breath. All it takes to remind me of my childbearing years is a laugh out loud episode of Broad City, and I'm peeing like a toilet training toddler.  Pelvic floor muscles are history. You can Kegel until the cows come home and you're still peeing and sneezing like a champ. Oh and remember that cute little vagina that didn't get in the way of things? Yah, that little girl is now wearing one of those Norma Kamali down puffer jackets from the 80's.
Enter ThermiVa, the easy, peasy, no surgery, no downtime treatment that can perk that retired party girl up in less than 30 minutes. Guess who was first in line for a treatment series? Yours truly. I headed straight to the Dr. Alexander Rivkin's office, Westside Aesthetics and met with Sarah Prévost, LE, the fabulous medical aesthetician who would be performing the procedure (no, nooooo, a man is NOT going to do it, DON'T WORRY!!). Sarah is incredible. She immediately made me and my vagina feel at ease. She coaxed my vaj out of her stage fright in no time. Sarah is light, cool,  sweet and funny and you'll want to be her BFF asap. After telling me about her early aesthetic years cutting teeth in the world of Brazilian waxing, I knew no vagina was too much for her. She had done ThermiVa herself (as did all of the women in the office had and all rave about it) and even though she was quite young and had never had kids, she loved the immediate results and so did her husband. Wink. 
Let me tell you why:
ThermiVa, in the most layman terms uses heat to boost collagen and create tightening. So everything inside tightens up. And everything outside tightens up. (Look at the photos yourself! Click vaginal rejuvenation and tell everyone to step away from the computer, now) This means you can kiss bladder leakage goodbye and say hello better to sex (tighter inside) and more lubrication (a by product!). After Sarah explained it all to me to me in detail, especially the part about how it would not only not hurt, but in fact, feel relaxing, I knew my vagina was in good hands. She explained exactly what I would feel: very mild warmth while she gently massaged a soft wand and some gel deep inside my vagina for 12 to 14 minutes. After that, she would use the same wand and gel and do the "outside." This to me sounded like a win-win.
I hopped onto a table just like my annual OBGYN check up. Sarah inserted the thin wand (like a popsicle stick /chop stick but soft and rounded and very thin – totally non-threatening) and within minutes the device warmed up a very tiny bit. She did exactly what she said, made a few gentle passes with the wand and then did the same on the outer vaj. Basically, it's a delightful vagina massage. Seriously, you just need to ThermiVa and chill and allow it do its thing. Once you learn that the Kardashian's swear by this, you may feel like 6 degrees (or 45 degrees celsius) of separation from a real, live Kardashian.
Before I knew it (under 30 minutes!) I was done. This was by far the easiest and most relaxing treatment I've ever had in the name of youth. Or a youthful vagina. When you are in the hands of a pro like Sarah and at a highly esteemed aesthetics center, like Westside Aesthetics, you know all will be great – and it was. Before I threw my clothes on, and given the go-ahead that I was cool to hit a Soul Cycle class (now!) and have sex (now!) we took my after shot (what do you call this – a VaSelfie?). Wowza!  My vag looked incredibly refreshed, like she just came back from a week long mediation retreat at Esalen!!
After my first treatment I was told I need to give myself a month and then come back for my second…and then, one more –  one month later. I am now two treatments in and I can tell you there is an improvement with incontinence from my pre-ThermiVa days. And also a noticeable difference between my first and second treatment. I keep testing myself to see what happens when I have to pee and how long I can hold it in for. I for sure am not having the same issues I was having pre-ThermiVa. I asked my boyfriend if he notices any difference in tightness with the new sleeker model when he took it for a test drive. He said, "yah it feels great!" Frankly I think he's just so excited to put his penis in a warm vagina that he is not taking the copious notes I need to report back to you on this. But I'll grill him about it next time.
Sarah Prévost
WESTSIDE AESTHETICS
Alexander Rivkin, MD
11645 Wilshire Blvd., Suite 800
Los Angeles, CA 90025
Ph: 310-443-5273 / Fax: 310-443-3660
Sarah and the ThermiVa wand.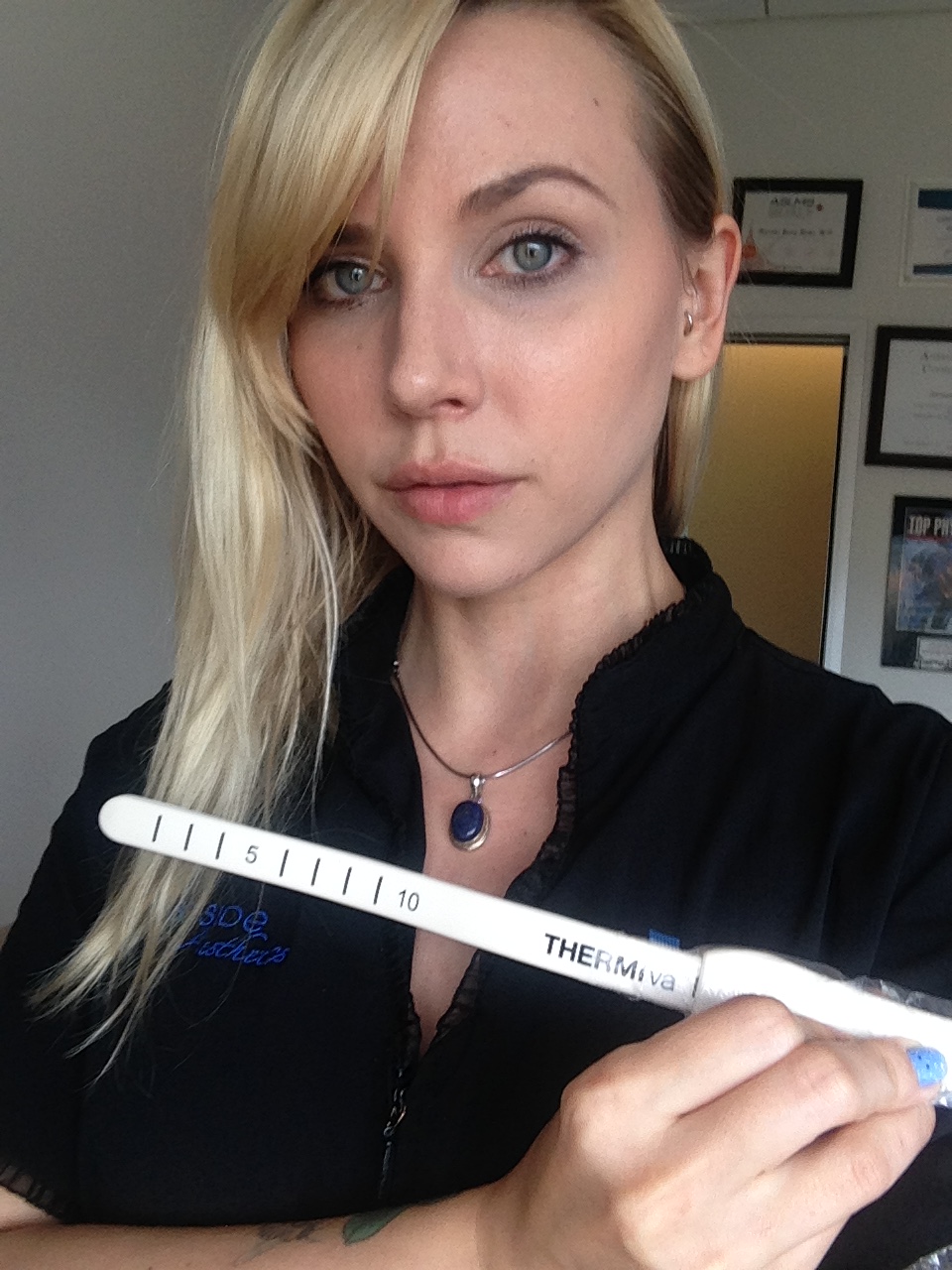 Did you know that you age in every part of your body?
Female wellness is just as important as taking care of your face and Westside Aesthetics is introducing a revolutionary technology that rejuvenates the vaginal area and remarkably restores women's confidence.
Over the course of a woman's life, factors like age, weight change, childbirth and various medical conditions can cause the muscles of the vagina and surrounding tissues to loosen, often causing reduced sexual satisfaction and incontinence. With time, many women also experience a reduction in lubrication, causing discomfort with sex. Many women feel a reduced confidence as these changes to the function and appearance of the vaginal area occur. To address these issues, Westside Aesthetics has begun to offer the ThermiVa treatment – a quick and pain-free procedure that tightens muscles, reduces loose skin, improves lubrication and decreases incontinence.
ThermiVa is a 30 minute non-surgical treatment that gently applies radiofrequency (RF) energy to reclaim, restore and revive feminine wellness, without discomfort or downtime. The RF energy stimulates collagen production within the skin as well as elastin production with the soft tissues. It increases nourishment to the tissues by stimulating blood vessel production and increases sensitivity by stimulating nerve regeneration. You can see and feel results immediately after your first treatment! For optimal, longer lasting results, it is recommended to have 3 sessions over a period of three months. After 3 sessions, ThermiVa effects should last about a year.
Do you feel loose vaginally since childbirth and/or menopause?
Do you feel dry or experience pain during intercourse?
Do you have trouble reaching orgasm?
Do you occasionally dribble or leak when you sneeze, cough or exercise?
Have your intimate relationships suffered due to these changes?
Are you experiencing a loss of self-confidence? Loss of interest in sex? Loss of desire?
ThermiVa is safe, effective and risk free. Call and book a free consultation with one of our female providers.
What to expect:
No surgery
No downtime
Three, 30 minute treatments
Sexual relations can be resumed same day/night of treatment
Noticeable improvement after 1st treatment
Restore your well-being and sexual health