Pasta. Love it. Never eat it. Until…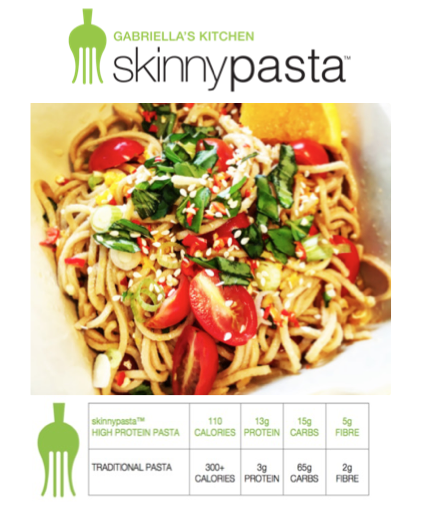 I tried Gabriella's Kitchen skinnypasta and my pasta dreams are coming true and they are no longer nightmares where I wake five pounds heavier.

Check out their full line here
WHAT: A line of low cal, low carb and high-protein pasta alternative, which cooks in under 2 minutes has created a ton of quick and easy-to-make delicious and nutritious recipes, perfect for an end of summer bash. Guilt-free cold thai pasta salad, basil pesto linguini and mediterranean linguine! 
Using all natural ingredients fortified with vegetarian protein from non-GMO sources there is:

NO corn
NO rice
NO additives
NO preservatives 
The pasta also has a low glycemic index making it a suitable choice not only for those watching carbs, but also diabetics. The latest addition to the skinnypasta family is their gluten-free TEFF penne. Teff is the healthy grain taking over the nutritional/wellness space and even dubbed 'the new quinoa.' It's rich in protein, iron and calcium and fantastic for anyone who doesn't eat gluten or dairy and for vegetarians who struggle to get protein into their diets.
All recipes can be found here.