CRAZY ABOUT THE WALL!
Jason Wimberly, one of my fave spin teachers of all time, debuts  the WALL Fitness, Pop Up Studio, located off Sunset).
PHILOSOPHY:
No walls? No breakthroughs.
"At THE WALL, we believe you have to go to the limits before you can push yourself past its boundaries. Our one-hour classes combine a unique blend of strength training and indoor cycling that is all about motivating you to achieve the results you seek."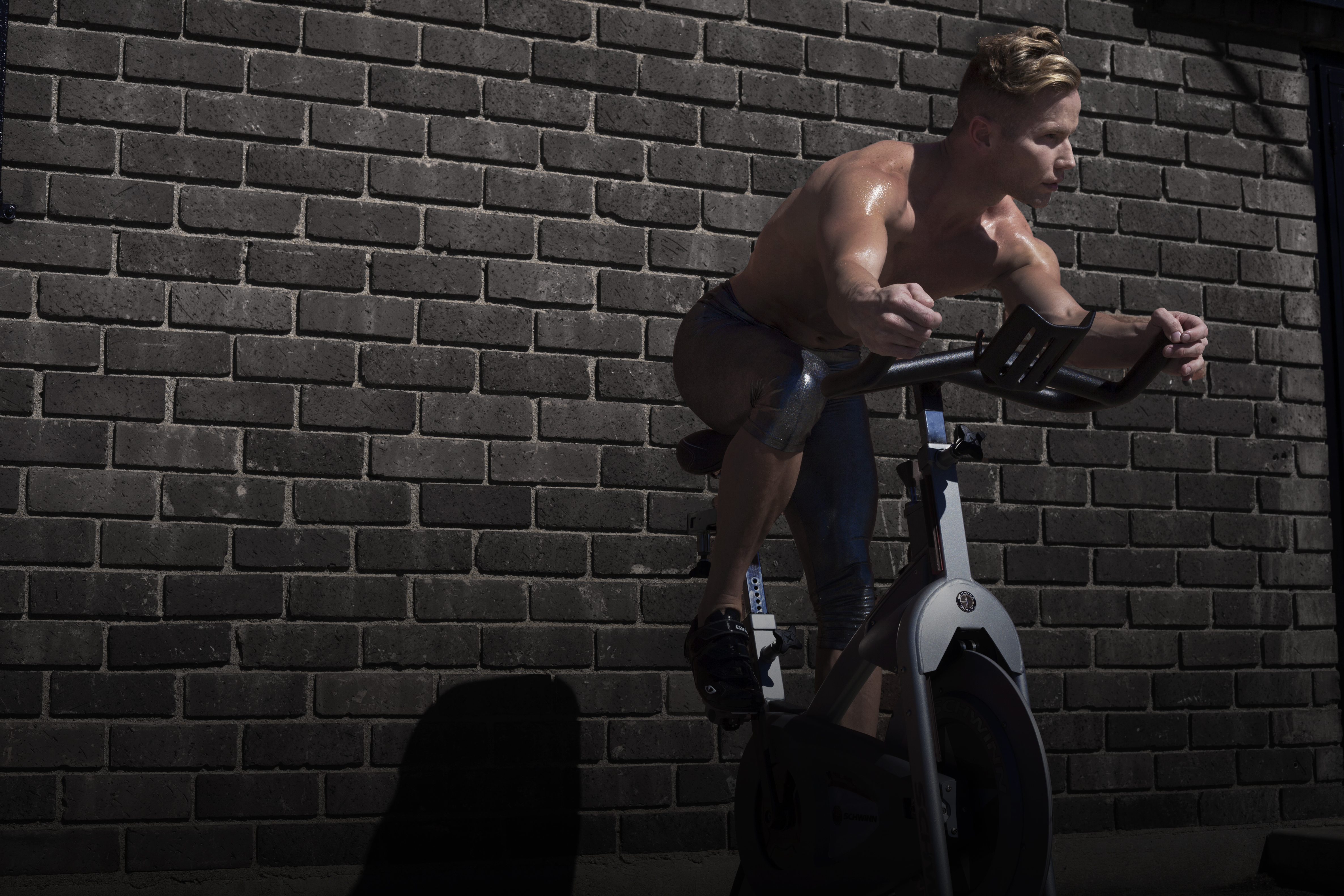 KEY FEATURES
123 Stack: Core Activation + High Intensity Circuit Training + Indoor Cycling
Our Signature "123 Stack" class is built with a foundation of 10 minutes of core activation, 20 minutes of high intensity circuit training, and 30 minutes of indoor cycling. Each class has its own focus and intention, expertly led by our team of high-quality instructors, each of them dedicated to maximizing your experience. Mindful awareness is the backbone to our curriculum as we believe in improving both mind and body.
Digital Tracking: Get ready for a powerful, personalized fitness experience.
Elevated Experience: Paperless check-in, complimentary amenities, and a state-of-the-art fitness tracking system, THE WALL will elevate your fitness experience in every way possible.
Jason Wimberly speaks to "Common 'Spin-Stakes' Made By Newbies"
Not enough resistance!
Resistance is your friend! The flywheel on a spin bike typically weighs around 40 lbs, so you can imagine once you get enough speed going, the momentum without resistance is pretty intense. While many studios are fans of super fast jogs and drills, without enough resistance the bike is in charge, and you are just along for the ride. Even thought spin is low impact, without enough resistance it can become rather jarring to your joints, which is obviously not a good thing. Lastly, if you really want to torch calories and burn fat, the best way to maximize your burn is by cranking it to the right.
Get off those handlebars
Form and position is paramount in all exercise, and when you're locked into a stationary bike, any deviations on position become rather obvious. Always remember that the handlebars are meant for balance, not to lean your weight into. By keeping your grip light, you engage even more of your core when out of the saddle, burning up to 1/3 more calories than doing the same exercise seated.
Pull it back
After teaching upwards of 5000 spin classes, I lost track of how many times I have been asked, "Will this bulk up my thighs?" My answer is always the same, "Not if you're doing it correctly." For indoor cycling, our positioning should mimic that of a squat when out of the saddle. Your knee should remain behind the tip of your toe, and your butt should be pulled back over the saddle so that it taps between your thighs. In this position, your glutes become the workhorse, and you avoid any unnecessary pressure on the knee, resulting in a firmer back side, not overdeveloped quads.
Follow the leader
Even if it's your first time ever, your instructor has likely spent lots of time preparing class to give you the best experience possible. Nothing is more irksome than when someone decides to ride to their own beat. Trust in the process, and accept the challenge of doing something new. If you know you have a former injury and might have to modify, or just may need some extra breaks, we understand. Simply let your instructor know ahead of class, and make sure and take a seat in the back where you won't distract other riders fighting to stay on the rhythm.
Stay for the stretch
Unless your instructor excuses you early, or you've let them know you need to leave early for work or a prior engagement, class is not over until AFTER the stretch. 1) You can afford the 4-5 minutes it will take to cool down, and stretching ensures you can continue riding injury free for years to come. 2) It's disruptive and just rude to everyone else, so don't do it.
ABOUT JASON WIMBERLY AND THE WALL FITNESS
The WALL Fitness founder Jason Wimberly is a force to be reckoned with. His decade long career as an Instructor means he knows exactly what your body needs, and as a former professional dancer he knows how to make it fun. His heart pumping, sweat drenched classes are truly one of a kind. Wimberly's ultimate goal, is to create a nurturing environment where you can safely grow to be your best self yet. Some of his celebrity clientele includes Kate Hudson, Selma Blair, Jane Lynch, Leela Goldkuhl and Annabeth Gish.