Fellas, are you still searching for a great set of skincare products perfectly designed for the men that love to pamper themselves and look good doing it? Biotherm Homme has answered your prayers. This three-step skincare regime that every GQ-reading stylish man needs is Biotherm Homme's Force Supreme Youth Architect Serum, Total Recharge Non-Stop Moisturizer, and the daily Cleansing Gel. These are the most effective secret weapons against aging and dull skin.
Force Supreme Youth Architect Serum stops multi-signs of aging and keeps your skin looking youthful throughout the day. Biotherm Homme developed a multitasking serum, specially designed for the adult man, to eliminate wrinkles. Taking advantage of the Biotherm expertise, Force Supreme Youth Architect Serum helps skin feel stronger and healthier. The formula with Algae extract, Life Plankton and Pro-Xylane, comes in a non-sticky cream texture that can be used everyday. Skin looks firmer and more even. Use this product every night and within a week, you will start to notice your skin (especially around those annoying frown lines) is noticeably firmer. The product has a rugged, outdoor woodsy scent to it that is manly but doesn't irritate skin, and absorbs pretty quickly with no flaking or residue left behind. Biotherm Homme's Force Supreme Youth Architect Serum is recommended by internationally known influencers such as David Beckham and fashion blogger, Mariano Di Vaio.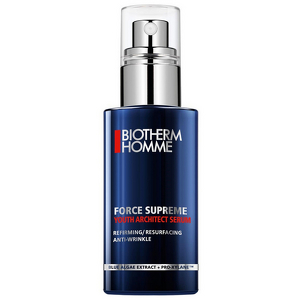 Total Recharge Non-Stop Moisturizer reverses fatigue and discoloration with this powerful double-duty moisturizer. Even after a sleepless night, this product allows your face to be re-energized and revitalized while your complexion is fresh and radiant. Day after day, the skin is softer and presents less signs of tiredness on the skin. Leave those sunglasses in the car and don't worry about the typical "you look tired" from co-workers as this product reduces those unwanted dark circles under your eyes and also feels very refreshing and tingly. Total Recharge visibly wakens skin and gives a "4 hour extra sleep" effect.
Cleansing Gel for Normal Skin rids skin of impurities while respecting the skin's surface. Preps face for shaving without leaving a greasy film on the skin. This product is necessary for all men as it thoroughly cleanses without drying out your face. Use this product while in the shower and follow with Force Supreme Youth Architect Serum and the Total Recharge Non-Stop Moisturizer for best results.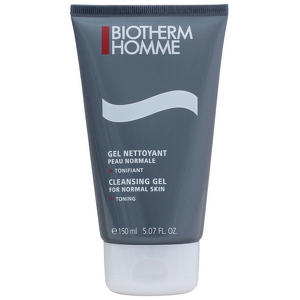 #BehindTheScenes of Biotherm Homme Thermal Plankton has been around for more than 3 billion years before dermatologists demonstrated its regenerating properties on the skin in 1930s. Two decades later, biologists managed to integrate it into skincare formulas and Biotherm was born. Guys got their own range of tailored skincare products in 1985 when they pioneered the concept because men's skin is rougher, thicker and much less likely to get waxed.
– Jonathan Stinson