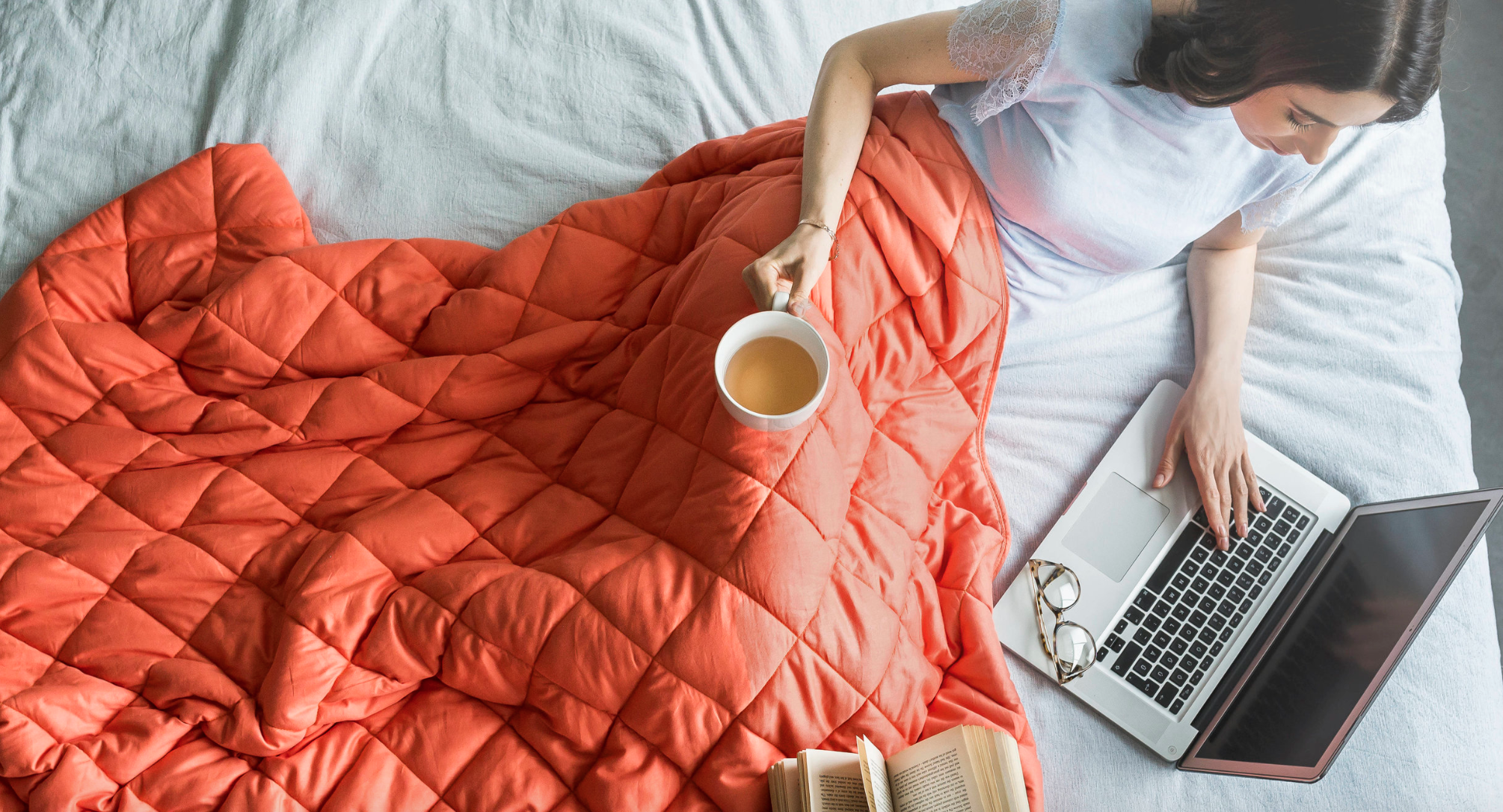 DID YOU KNOW THAT A WEIGHTED BLANKET….
The only problem I have had with my old one is – well…the duvet was super unattractive, stained easily and started to seriously pill.  Then I tried using it without the duvet and it was just a disaster. I've been looking high and low for a weighted blanket that was actually pretty. Enter the Corala – first of all it's my favorite color – Living Coral (hello Pantone color of the year). And it comes with 2 duvet options – a cozy soft winter and a light summer one. But first – read on.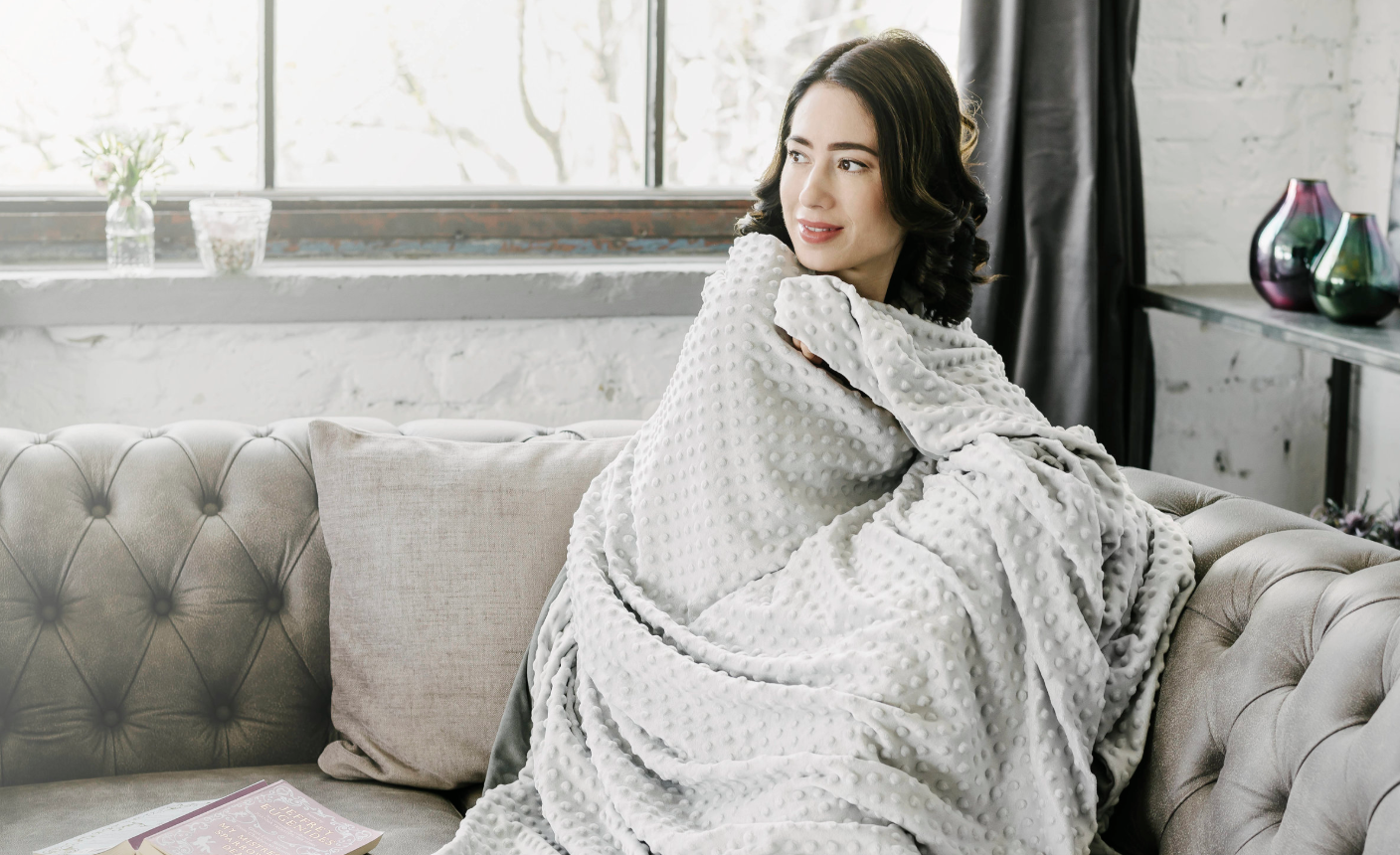 Why You Need a Weighted Blanket and so does everyone else in your life (as in BEST HOLIDAY GIFT EVER)
Higher Sleep Quality
With a weighted blanket, anyone can achieve deeper, higher quality sleep thanks to its ability to increase serotonin levels which relieves stress and anxiety
Deep Touch Pressure
The Deep Touch Pressure (DTP) of a weighted blanket is what promotes better sleep. DTP has long been studied and is now a common method for relieving stress, anxiety, and sleeplessness.
ENTER The Corala Blanket and their gorgeous set.
I am totally in love with mine and I know you will be too.

1. Sleep management
Stress is insidious, and can wear down even the most driven among us. One of the most common symptoms of stress could be poor sleep quality and anxiety. By gently distributing deep pressure across your body, the Corala Blanket increases serotonin and melatonin levels. (Serotonin promotes relaxation while melatonin plays a critical role in the sleep/wake cycle.) Using a weighted blanket will equate to better mood, more restful sleep, and–ultimately–a more productive lifestyle. Backed by science.

2. Designer blanket
This is the only designer Weighted Blanket Set. Corala's colors were thoughtfully selected by color professionals. In a sea of drab blanket colors, the Corala weighted blanket stands out gorgeously in 2019's Pantone Color of the Year: Living Coral. MY FAVE!!!!

3. Complete Set
It includes the premium 60×80″ Queen size 20 lbs weighted blanket + a summer duvet + a winter duvet, to ensure you always have the perfect level of insulation. Best of all, the entire set is shipped in a super attractive Corala Gift Box suitable for gifting or storing.
The Corala Blanket comes with two duvet covers–one for summer and one for winter. Enjoy your Corala blanket year-round.
In order to keep weight evenly distributed, Corala uses a diamond-stitch pattern, securing a balanced amount of beads in each "pocket" across the entire blanket.
When it gets dirty, just throw the covers in the washer like all of your other bedding!
There are plenty cheap weighted blankets hitting the market using plastic beads, which are often filled with dangerous chemicals. Corala only uses lead-free pure glass beads in every blanket.
BEST OF ALL HERE IS A CODE!!
15% Off Coupon Code for you: SUN15
https://www.coralablanket.com/blog
https://www.facebook.com/coralablanket/
https://www.instagram.com/corala.blanket/
https://www.twitter.com/CoralaBlanket
https://www.pinterest.com/coralablanket/