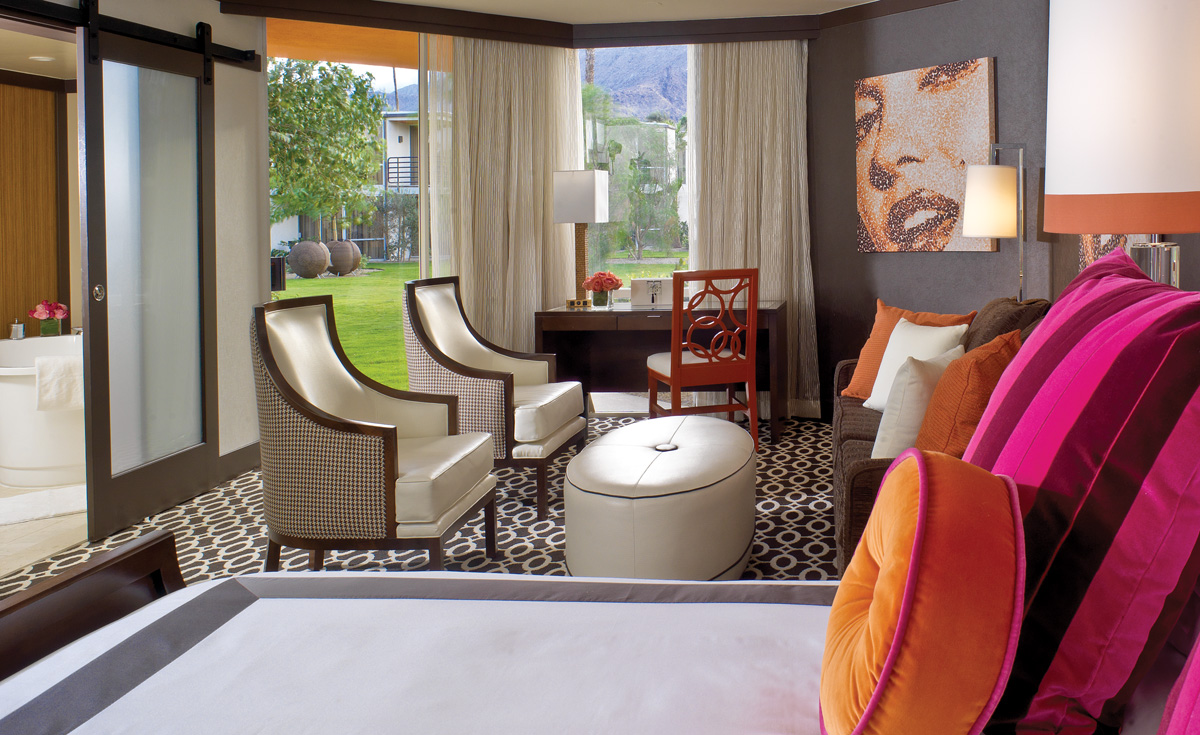 FIT & PHAB Celebrity Wellness Weekend from November 14-16 at Riviera Palm Springs. In conjunction with Celebrity Trainer Craig Ramsay, Riviera Palm Springs is hosting the ultimate health, fitness and inner peace retreat. Participants will be educated in proper nutrition, participate in a fat-burning Bootcamp class, learn stretching techniques, delve within during meditation and put their best face forward with celeb makeup tips and tricks from Hollywood Stylist Brandon Liberati.
The weekend will kick off Friday evening with a cocktail mixer, from LIVE Magazine, at Riviera Palm Spring's Bikini Pool. In keeping with the wellness theme, a special low-calorie cocktail will be offered during the event, as well as several giveaways from MPG sport clothing, beauty items, Burn and Build Body nutritional products and travel getaways. Craig Ramsay, who helps sculpt the bodies of Lance Bass, Jeff Goldblum, and Jeana Kough and will be on hand to meet FIT & PHAB participants and winner of the John Lennon Singer/Songwriter award Kristy Hanson will be performing to get everyone grooving and dancing  – all those cocktail calories will vanish! Saturday and Sunday will be spent centering mind, body and soul. Pool time will also be carved out too – after all – it is a retreat!
FIT & PHAB Celebrity Wellness Weekend Itinerary:
Afternoon arrivals
Live Magazine cocktail mixer at Bikini Pool at 6:00pm
Giveaways will include clothing from MPG, Kiehl's products, Pure & Simple beauty items, Gaiam yoga mats for all participants, local restaurant gift cards and more
Morning: Healthy breakfast at Circa 59, the resort's contemporary dining restaurant
9:30am – 10:30am: Bootcamp class led by Craig Ramsay
12:00pm – 1:00pm: Nutrition talk with Rick Dinihanian, owner and founder of Burn & Build Body
1:00pm – 3:00pm: Lunch and pool time
3:00pm – 4:00pm: Beauty tips with Celebrity Stylist Brandon Liberati
4:30pm – 5:30pm: Meditation class with celebrity meditation coach Emily Fletcher
Morning: Healthy breakfast at Circa 59
8:30am – 9:30am: Stretch class led by Craig Ramsay
9:30am – 10:00am: Proper alignment, posture and physical wellness tutorial by Dr. Steven Margolian, owner of Longevity + Health in New York City
10am – Checkout: Relaxation by Bikini pool
Pricing for the FIT & PHAB Celebrity Wellness Weekend starts at US$750.00, based on double occupancy for the full weekend, which includes: access to the Live Magazine party, entry to all classes and events, accommodations in a Mediterranean Junior Suite, daily $50.00 Resort Credit, and 25% off one spa treatment. For $100/person, non-hotel guests and locals are also welcome to attend classes.