Ok so growing up this mirror was life. I was looking for a fun mirror for me and my now tween and thank you Amazon. I LOVE THIS! Ok, full disclosure – my 11 year old nabbed and is doing fake Youtube slime tutorials while looking in it  – but it's all good.
Super fun and affordable for the holidays as they are UPON US NO JOKE!!
Jerdon's Tri-Fold Two-Sided Lighted Makeup Mirror .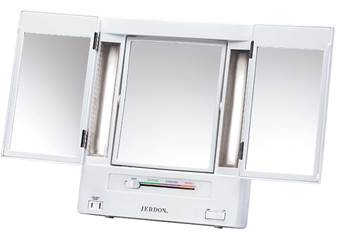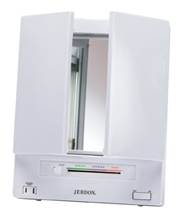 Here's why it's one of the most-loved mirrors on the market:
Adjustable magnification, 1x and 5x
Adjustable light settings for daytime, evening, home and office to view yourself in the best light no matter your environment (this can be SCARY!!! office? NO PLEASE!)
Built-in electrical outlet to plug in a curling iron or cell phone charger
LOVE IT!  Has a totally retro 80's vibe but I don't even think they are thinking of that when selling it. I do, and it's so fun.
Enjoy!